You drop off plastic waste to a recycling point at the grocery store, then buy cleaning supplies made from recycled plastic in the store. The future? No, present day reality. Sinituote gives a new life to Finnish plastic waste by turning it into new cleaning supplies that last for years.

Environmental load and the increase in plastic pollution are global issues that we can all help mitigate by making the right choices. Plastic packaging must be recycled, and circular economy enables the reuse of plastic materials. Plastic currently has a bad reputation, but used correctly, it is an excellent material. Circular economy comes to full circle when a product made from recycled plastic is taken into use.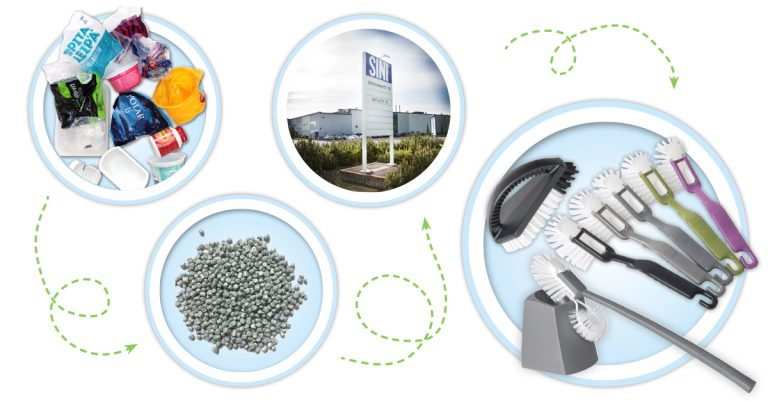 The Finnish cleaning supplies manufacturer Sinituote has been developing ways to increase the use recycled plastic for years now. The company is a forerunner in the use of recycled plastic – our target is that by year 2021, 30% of our plastic raw material is recycled plastic. Currently three commonly known products are already made from recycled plastic: the SINI dish brush replacement heads, toilet brushes and lint rollers.
Cleaning supplies made from recycled plastic are just as durable as those made from regular plastic. For consumers, the use of recycled plastic also means product prices do not go up. We all have a genuine possibility to make a difference and take environmental action by recycling our plastic packaging and choosing products made from recycled plastic.
Used correctly, plastic is an indispensable material. Effective recycling of plastics and good design of plastic products will continue to be key factors in reducing the environmental impacts of plastic, something Sinituote wants to embrace fully.
Marika Karppinen
Product Manager, Sinituote Oy
K Group is known for being a strong and responsible operator. We at Gasum have been delighted to work on a sustainability story together with K Group. Gasum is known for being an expert of the Finnish energy sector, and is gaining reputation as a promoter of circular economy and contributor to a cleaner environment. In the past few years, we have helped industries and traffic take major leaps towards a low-carbon future in Finland as well as in Sweden and Norway. One element combines all our operations – methane molecule.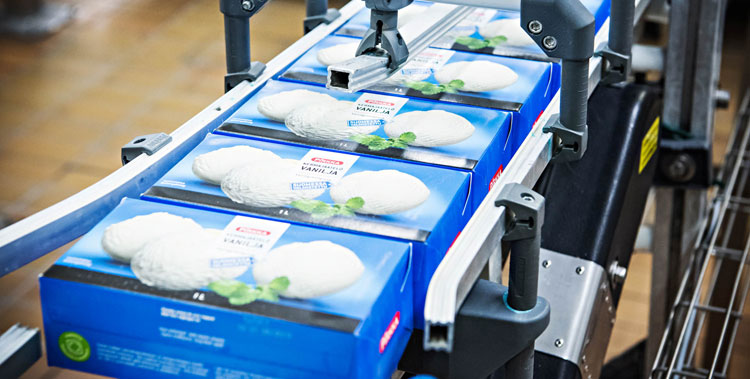 We receive about million tons of biomass annually and turn it into biogas and recycled nutrients and fertilizers for our customers. Biogas can also be utilised in food production. Did you know that K Group's Pirkka ice creams made at the Turenki ice cream plant are manufactured using Finnish renewable biogas produced by Gasum? The biogas used for manufacturing ice cream at the Turenki plant has been produced from inedible organic waste collected from K-food stores, which Lassila & Tikanoja delivers to our biogas plant.

On top of that, Stora Enso manufactures Pirkka ice cream packages in its boxboard mill using also biogas as the fuel. This great circular economy story is completed by K Group's gas-powered trucks, which transport the goods purely on gas. Besides energy, the organic waste of K Group is also turned into organic recycled nutrients.

In the biogas production process, nitrogen, phosphorus, potassium and carbon are returned to the natural cycle to grow new crops. Utilising the recycled nutrients generated in the process helps to reduce the use of fossil and imported fertilizers. The nutrients generated in the biogas production process provide a perfect consistency for an eco-friendly fertilizer on fields and for mitigating combustion gas emissions, just to name a few of its environmental applications. The reject water generated in our biogas plant in Turku is processed into an ammonia solution using evaporation technology. The solution is used by, for example, Algol Chemicals, which distributes it to industrial end-users as a recycled product.

The idea behind circular economy is to reutilise material and energy that was previously wasted. This offers a natural solution to the world's capacity problems as energy use and the population are growing. Biogas is a great example of the solutions of circular economy – it is a domestic fuel that is produced nearby and its utilisation helps to minimise the amount of unused waste and emissions.

The writer is Jussi Rinttilä who is the Sales Director of biogas at Gasum

Ps. Promoting circular economy is always a joint effort. In the previous K Team Days in Tampere, we shared a stand with our partners Lassila & Tikanoja and Stora Enso. Methane is of many uses and joins together.
Many of us want to make good choices in our everyday lives. The kinds of choices that support the well-being of ourselves and those close to us as well as that of nature and production animals. But how can we know what is good? And can it be trusted?
Organic products make for an easy choice. Organic producers commit to following more strict criteria to secure the well-being of nature and production animals and the production of food that is as natural as possible.
The criteria mean, for example, that organic fields are not fertilised with industrial chemical fertilisers and that no chemical pesticides are used in cultivation. The non-toxic soil and plants offer good conditions for rich biodiversity both above and below ground. Research has shown that organic fields are home to almost a third more of plant and animal species than conventionally cultivated fields. In addition, organic cultivation helps curb climate change as the methods used generate organic matters containing carbon into the soil. The nutrient discharges of organic fields into water systems are also smaller than conventionally.
Organic animals are allowed their natural behaviours. Pigs can grub, chickens can scratch the ground and calves can live in groups with their peers. During the summer, all organic animals are let outside and organic cattle roam the pasture, where their manure offers nutrition and protection to insects and beetles, who in turn are food for small birds.
Organic animals eat organically produced feed. This means that when you enjoy organic meat or milk, you are protecting nature from chemicalisation and water systems from nutrient discharges.
Organic does not stop at the farm gate – it extends to food production. The production of organic products permits only a fraction of the levels of additives and excipients permitted in other food. For example, organic foods prohibit artificial sweeteners and colourants.

The adherence to the requirements for organic products are monitored through yearly inspections. In Finland, the inspections are carried out by the authorities. The actors who pass the inspection mark their products with the EU organic label that makes organic products easy to recognise. As the selection of organic products expands, making responsible choices becomes even easier.

Marja-Riitta Kottila
Executive Director, Pro Luomu ry