We have approximately 1,800 stores engaged in chain operations in Finland, Sweden, Norway, Estonia, Latvia, Lithuania, Belarus and Poland.
Kesko and K-retailers form K Group, whose sales (pro forma) totalled about €13 billion in 2017. K Group is the third largest retailer in northern Europe and it employs around 42,000 people.
Kesko's shares are listed on Nasdaq Helsinki. The company's domicile and main premises are in Helsinki.
Divisions
Kesko is engaged in the grocery trade, the building and technical trade, and the car trade.
Finland: All divisions
Sweden and Norway: Building and technical trade
Estonia, Latvia and Lithuania: Building and technical trade
Poland: Building and technical trade
Belarus: Building and technical trade
K Group's retail sales and store numbers by country in 2017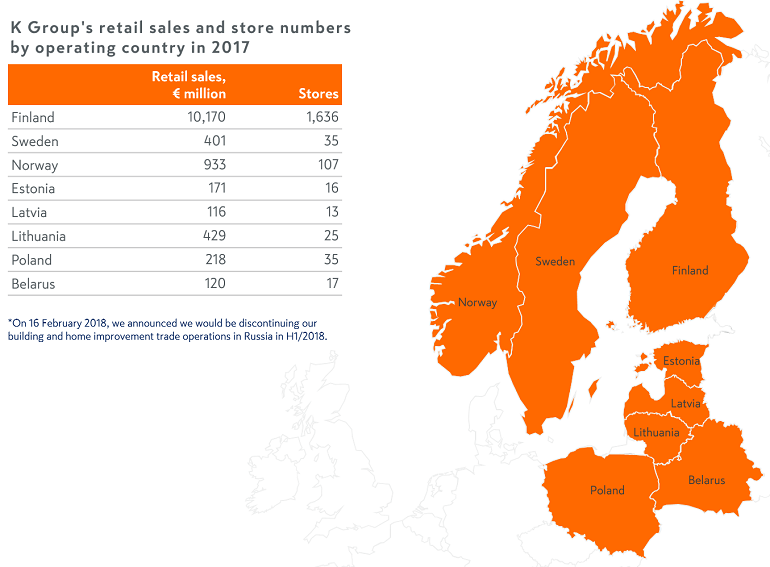 Responsibility at Kesko
Corporate responsibility is a strategic choice for Kesko and integrated in day-to-day activities.
Corporate responsibility work is based on Kesko's strategy, value, vision and mission as well as responsibility programme, and it is guided by Kesko's general corporate responsibility principles, the K Code of Conduct guide and Kesko's purchasing principles.
Value creation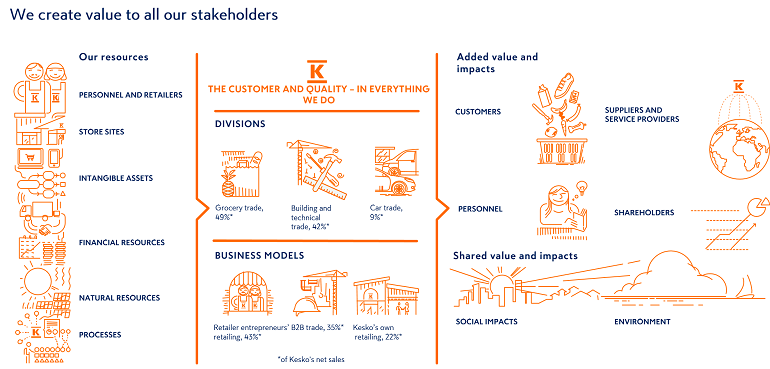 Kesko's value creation chart illustrates how Kesko's operations create value for its stakeholders and society.
Read more about value creation in Kesko's Annual Report.
Read more about Kesko's responsibility work in the Responsibility section.