We serve our customers under the K-Rauta, Onninen, Byggmakker, K-Senukai and OMA brands and operate in eight countries: Finland, Sweden, Norway, Estonia, Latvia, Lithuania, Poland and Belarus. Of our net sales of €4.5 billion, 51% come from outside Finland. B2B trade accounts for 68% of retail sales.
Focus on growing our core business
In 2017, we streamlined and focused our building and technical trade operations by divesting the K-maatalous agricultural business, the Asko and Sotka furniture business, and a considerable portion of the Konekesko machinery business. On 16 February 2018 we announced that we are to discontinue the building and home improvement trade operations in Russia. The ownership of the properties will transfer to the buyer during the first half of the year 2018.
In spring 2017, we combined the K-Rauta and Rautia chains to form a new K-Rauta chain, which is the market leader in Finland with the most comprehensive network of stores. We expanded the Onninen Express store network in Finland to Loimaa, Iisalmi, Varkaus and Viikki, Helsinki. Currently, we are testing joint stores for K-Rauta and Onninen Express in Loimaa, Finland and Jönköping, Sweden.
In the Baltic region, we are remodelling the store network in line with the K-Senukai concept.
The work to create sector-best digital services continued in three Centers of Excellence in Stockholm, Vilnius and Vantaa, and we opened new online stores for Onninen and K-Rauta in Finland.
Building and renovation are increasingly left to professionals
Global megatrends guide our strategy: as building and renovation become more technical and regulated, consumers increasingly outsource them to professionals.
The trend is further underpinned by the rise in the standard of living, urbanisation and population ageing. Online stores and digital services are a natural part of all operations in the trading sector.
"More time for work" for our business customers
The best multichannel customer experience is at the core of our strategy. We promise our business customers they will have "more time for work". For consumers, we promise to make renovation, building and shopping "surprisingly easy".
We want to help make work more productive for our business customers through deeper collaboration with our partners and by offering solutions that best suit their needs in e.g. logistics and selections. We are improving the service for joint customers of Onninen and our building and home improvement store chains via efficient common functions, so our customers get more with less effort. The majority of our business customers are building and technical contractors, but Onninen's customers also include industry, infrastructure construction and retail dealers.
More comprehensive solutions for consumers
For consumers, we offer increasingly comprehensive solutions, such as renovation projects with start-to-finish planning and execution, and implementation support via sector-best digital services. We want to create an ecosystem where we can bring together our consumer customers with renovation needs and our business customers offering renovation services.
Leisure goods trade
Leisure goods trade is included in the building and technical trade division. Our leisure trade chains are Intersport, Budget Sport, The Athlete's Foot and Kookenkä.
Machinery trade
Konekesko imports and markets agricultural and environmental machinery in Finland, and agricultural, construction and forestry machinery in the Baltic countries. In 2017, Kesko sold a 45% interest in the Baltic subsidiaries of machinery trade to Danish Agro group, and agreed on the option of expanding the holding to include Konekesko's agricultural machinery business in Finland.
Megatrends support our strategy
Building and renovation are becoming more technical and regulated
Consumers are increasingly outsourcing building to professionals
Growing need for renovation building
Higher standard of living leads to increased use of services
Stronger emphasis on a multichannel customer experience
Competitive advantages
Chain concepts and service combinations that are based on customer needs
One store network can serve different customer groups
Effective joint use of online stores, electronic services and extensive store network
Professional customer service in-store and in electronic channels
Well known and reliable operators, store chains, and product brands
Efficient procurement and logistics
Own brands in 2017
The building and technical trade division offers a total of some 26,600 own brand products, the biggest of which are:
Cello, some 6,100 products, also Cello kitchens in Finland
PROF, some 5,500 products
FXA, some 2,900 products
Onnline, some 8,600 products
Building and technical trade chains

K-Rauta wants to make building, renovation and shopping at building and home improvement stores surprisingly easy, leaving professionals with more time for work. K-Rauta imports and offers industry's top brands and services for building, renovation, yard and garden, interior decoration and home furnishing to consumers and business customers. In Finland, all K-Rauta stores are run by retailer entrepreneurs. K-Rauta has 136 stores in Finland and 17 stores in Sweden.
Byggmakker is one of the leading operators in the building and home improvement trade in Norway. It offers a store network covering the entire country and very strong B2B expertise. Nearly all Byggmakker stores operate under the retailer business model. Byggmakker has 82 stores.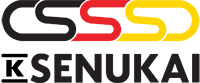 K-Senukai's stores offer extensive non-food product selections to customers in the Baltics, with a focus on products related to building and living. There are a total of 39 stores in the K-Senukai network of stores.
OMA is the largest building and home improvement store chain in Belarus with 17 stores.




The customers of Rautakesko B2B Service (Rautakesko Yrityspalvelu) are national and large regional building firms, property maintenance companies, the housing industry and other business customers. The strengths of B2B Service are the extensive selections of building and home improvement products and close collaboration with the K-Rauta store network, through which all of the warehouse deliveries take place.

Onninen and Onninen Express stores serve business customers. Onninen imports, markets and delivers industry's top brands and service packages to contractors, industry, infrastructure building and retail dealers. Customers can collect products for their daily needs from the Onninen Express stores' selection. There are around 150 Onninen Express stores and Onninen points of sale in Finland, Sweden, Norway, Estonia, Latvia, Lithuania and Poland.
The Elfin chain operations include around 220 independent electrical contractors with which Onninen collaborates across Finland.
The Hanakat chain is a retail network comprising around 80 independent HEPAC entrepreneurs in Finland.
The Elfag chain is one of Norway's biggest electrical contractor chains including around 140 business members.

Konekesko imports and markets agricultural and environmental machinery in Finland, and agricultural, construction and forestry machinery in the Baltic countries. Konekesko has subsidiaries in Estonia, Latvia and Lithuania.

Leisure goods trade chains



Intersport is Finland's market leader in the sports trade. Together with retailer entrepreneurs, it employs almost 1,000 people in 55 stores and its online store. The chain's success is based on extensive selections of sports and leisure products, good service, high-quality products, diverse maintenance services and on providing an expert shopping experience, both in-store and online.

There are ten Budget Sport stores across Finland. The stores strive to beat competition by making the shopping of sports trade products quicker, easier and less expensive. A diverse online store complements the customer experience.
The Athlete's Foot is a retailer of sporty leisure footwear, trainers and clothing. The chain represents the world's best known sports goods brands and models, and it aims to promote its customers' passion for sport and bring a touch of style into their lives. The chain has six stores and an online store in Finland.

Kookenkä is Finland's largest shoe store chain for the whole family. The chain's 36 stores and online store cover the whole country.
Markets and market shares 2017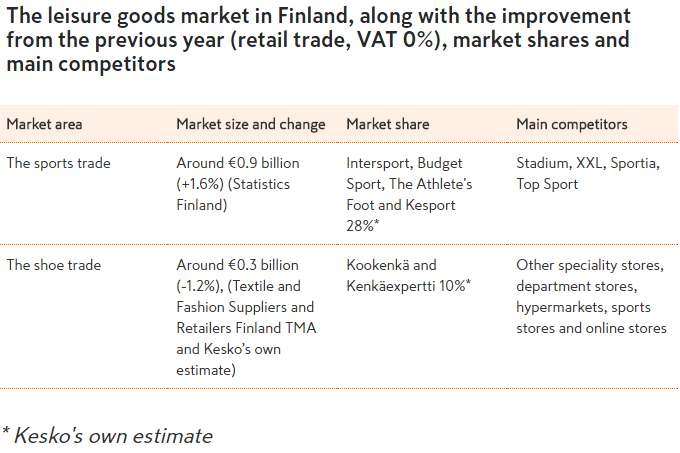 Read more about building and technical trade: