Economic responsibility - targets and achievements

K Code of Conduct
It is our objective that all of our personnel act in compliance with the K Code of Conduct guidelines. The K Code of Conduct is a material part of the induction of new employees.
Kesko's anti-corruption principles are included in the guidelines. From the beginning of 2015, all of Kesko's Russian business companies have had their own anti-corruption policies.
Impact on society
Kesko's operations generate economic benefits for shareholders, personnel, retailers, suppliers and service providers and their employees, customers, as well as municipalities and states.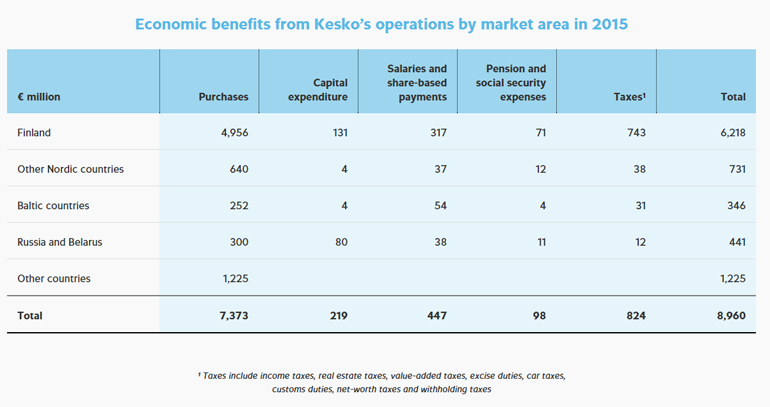 Kesko is a significant taxpayer: in addition to paying income and real estate taxes, Kesko collects, reports and remits indirect taxes, such as value added taxes and excise duties.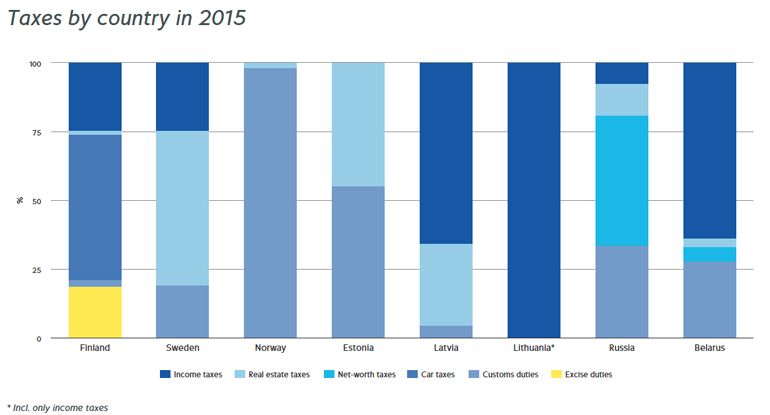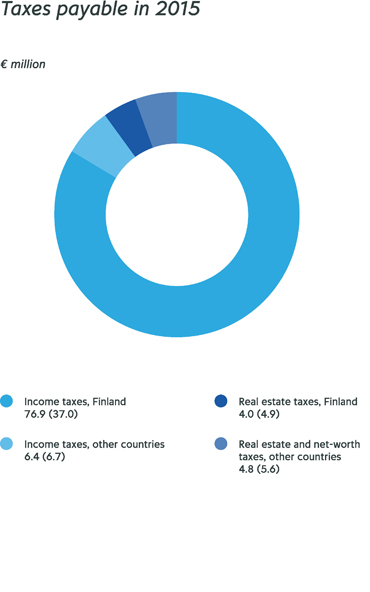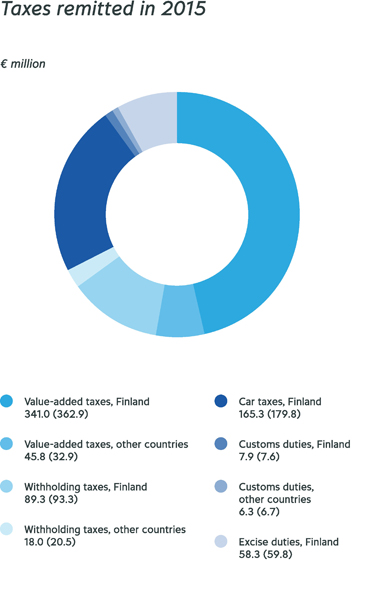 More performance indicators for economic responsibility are available in Kesko's Annual Report.
The performance indicators as pdf
Social targets and achievements
Working community
We perform and offer high-quality work
We have satisfied employees and competent supervisors
We offer meaningful and diverse jobs and development opportunities
We are the most attractive workplace in the trading sector
We offer a safe and healthy working environment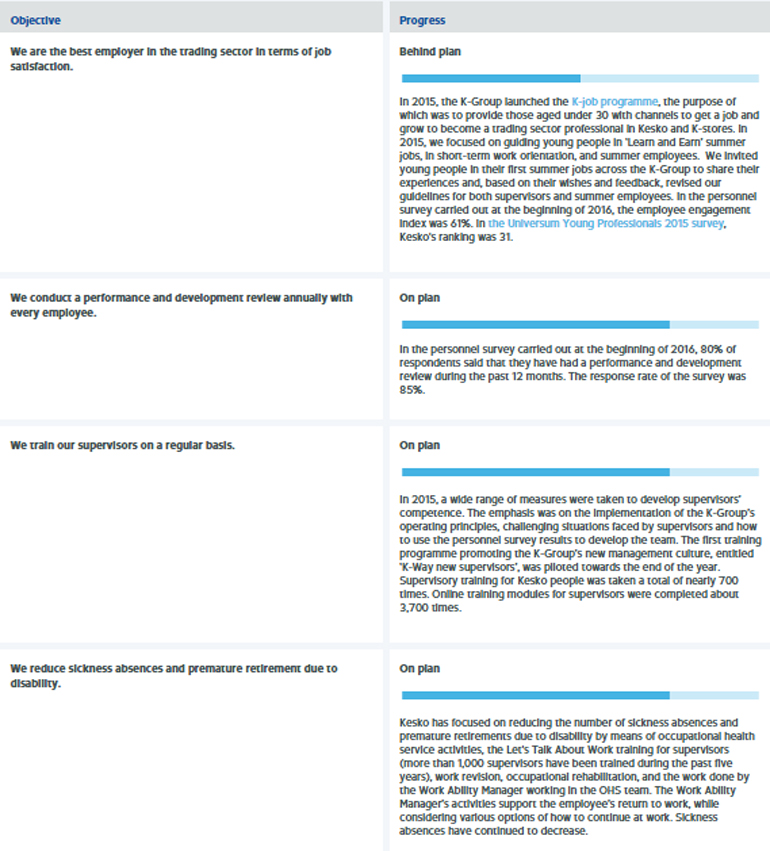 Responsible purchasing and sales
We purchase and sell responsibly and support customers in making sustainable choices
We provide customers with information and support for responsible buying decisions
We make responsible actions visible and easy for customers
We develop our product selections while listening to customers
We ensure responsibility in the supply chain
We are accountable for the safety and quality of products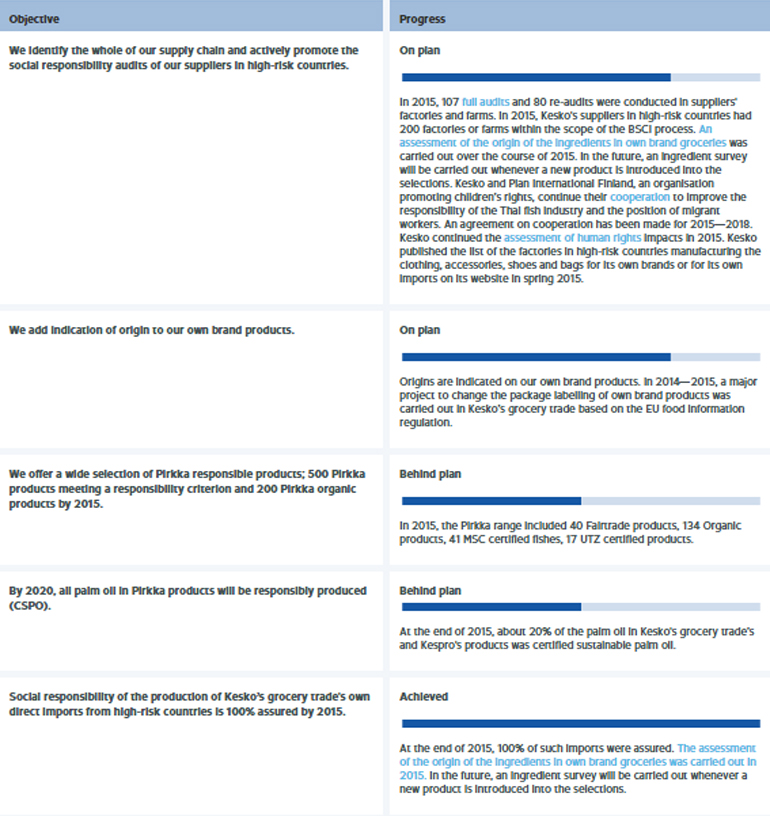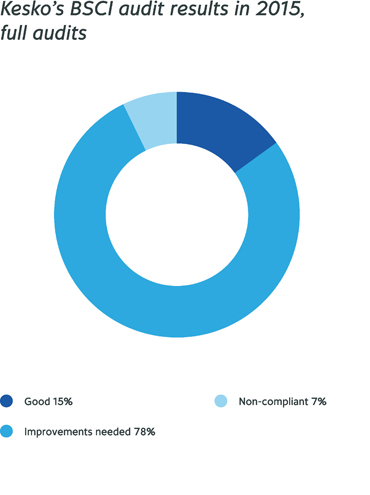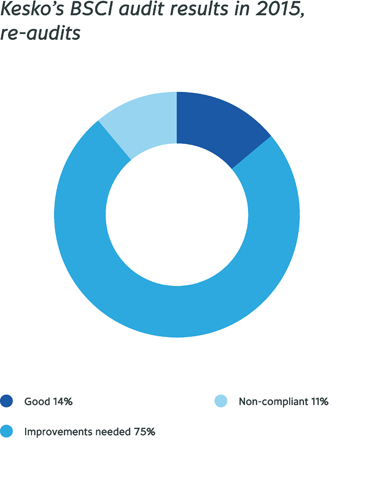 More performance indicators for social responsibility are available in Kesko's Annual Report.
The performance indicators as pdf
Environmental targets and achievements
Energy

Kesko participates in the national energy efficiency agreement, in which we are committed to improving our annual energy consumption by 65 GWh by the end of 2016 through various actions. By the end of 2015, Kesko had improved its energy consumption by 64 GWh and achieved 97% of its objective.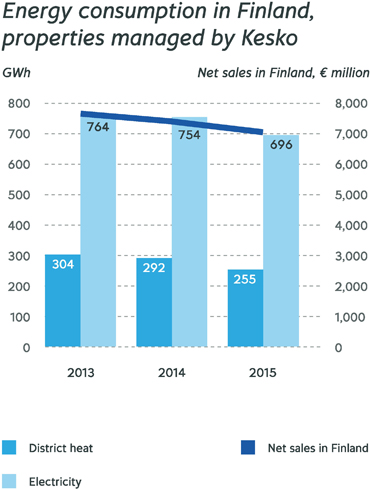 Emissions

Kesko's aim is to increase cooperation with the supply chain in order to promote the sustainable use of natural resources and the development towards a low carbon society. The aim is to reduce the relative carbon dioxide emissions from Keslog's transportation by 10% by 2020.
Emissions are reduced by route planning, reverse logistics, two-tier trailers and training in economical driving style. In March 2015, Keslog started to pilot an extra long Ecotruck on the main logistics route between Vantaa and Oulu.

Waste

Kesko's aim is to recover all waste generated in its operations. In 2015, the waste recovery rate in the grocery trade was 99%, in the home and speciality goods trade 99.4% and in the car trade 99.9%. The waste recovery rate of retail stores in the sphere of the waste management agreement in Southern Finland was around 98%.
More performance indicators for environmental responsibility are available in Kesko's Annual Report.